Stripe is a company that creates software which provides the technical banking infrastructure and fraud prevention technology required to operate and collect online payments. You can read more about them in the the New York Times or through their site here: NYT - Stripe Article + Stripe Website
There are no setup or monthly fees – only a small Stripe fee for each transaction (2.2% (non-profit rate) + 30¢). By integrating Stripe, Village donors and members will be able to make payments directly through your Village website. This eliminates Helpful Village in the process allowing for faster deposits into your village's account. Stripe instantly verifies the credit card payment and securely wires the money to the Village's Bank Account. The integration of stripe is what allows Helpful Village to accept and process monthly payments for membership dues in addition to annual dues.
With the help of Stripe, Helpful Village is able to instantly and automatically process dues as well as update any associated membership expiration dates, link all payments and donations to an individual's profile, and create associated reports. This gives Helpful Village more functionality in payments and donation options.
Stripe has a great product and service that gives your Village a convenient and efficient way to receive payments. Stripe's catering to online businesses is exactly why we continually choose it to enable our online payments for our Villages.
Security
Security is essential to handling payments online. In order to preserve the safety of customer data, we have implemented security features to our source code and server. This incurs small Helpful Village administrative fee (0.8% per transaction) from each payment. This ensures Helpful Villages compliant and secure use of the Stripe payment software.
Payment Breakdown
The following example outlines the fees for a $100.00 donation made directly through a Village's integrated Stripe system:
$ 2.50 - Stripe fee (Stripe's non-profit 2.2% rate + 30¢ per
transaction)
$ 0.80 - (Helpful Village's 0.8% administrative fee)

$100 donation -> after fees, the Village collects $96.70
Test Payments
Stripe "Test Mode" All Helpful Village platforms have the 'test version' of Stripe preloaded. This allows you to see how payments, donations, ticket sales, and other electronic payments are processed and tracked.
To use this test version of Stripe, we suggest making a donation on your platform and using our test credit card information:
Card number: 4242424242424242
Expiration date: 01/50
CVV: 123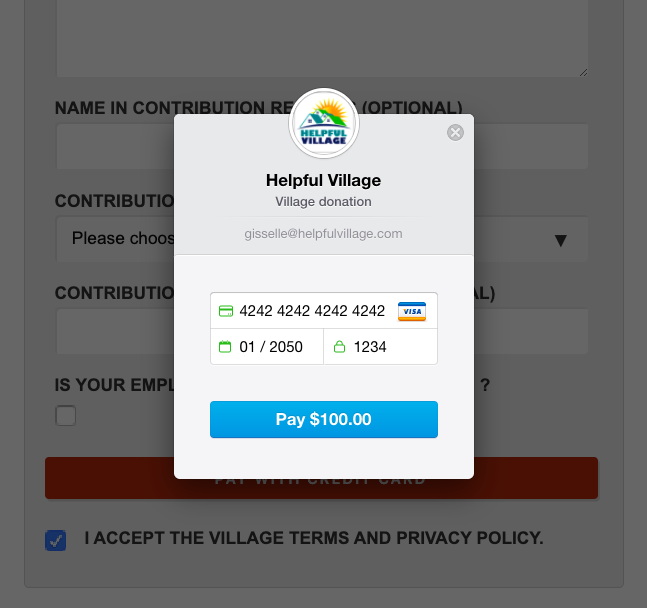 Once you have made a donation, you will be able to see this information tracked in the
donation reports, spreadsheets, and it will also be linked to an individual's profile. This creates a quick and easy way to see all payments and donations an individual has made to the Village.