After you have finished the first step, you will have access to your Helpful Village platform. This guide will refer to the image in the upper right corner as the "profile icon."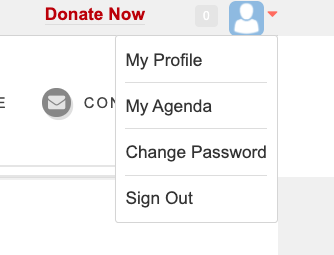 Once you click it, a drop down list will appear with the following options:
My Profile

This is where you edit the information which is attached to your member profile. Your member, volunteer, event, and contact information can be edited through here.

My Agenda

Here you will find a calendar listing all of the future events you have registered for. If you are a volunteer, the Services you will provide and/or receive will also show up here.

Change Password

Here you can change your account password. This process will be similar to when you first created your password.

Sign out

This will log you out of your account. By logging out, some private Village information may no longer be available to you. This varies by Village, but also something to be aware of.