Before synchronization, each time a person wanted to send a marketing campaign using MailChimp to a targeted group, they would create a specific mailing list on MailChimp and manually transfer all the individual emails in the corresponding mailing list found in Helpful Village to MailChimp.
This became a problem when a user's status would change (example from Prospective Member to Active Member) and the MailChimp mailing list was not automatically updated. As a result, a prospective member who subsequently became an active member and was not removed from the mailing list in MailChimp, would receive marketing campaigns about becoming a member.
So to make a long story short, you need to synchronize each time you add a new person to a mailing list or update their status, otherwise MailChimp can't keep track of the changes in a person's status. As a result, people whose status has changed will remain in the wrong Mailing List, Tag, or Volunteer service group and will receive irrelevant mail.
Helpful Village auto synchronize once a week (on Thursdays at night time).
You must synchronize all updates made on Helpful Village for the changes to appear on MailChimp.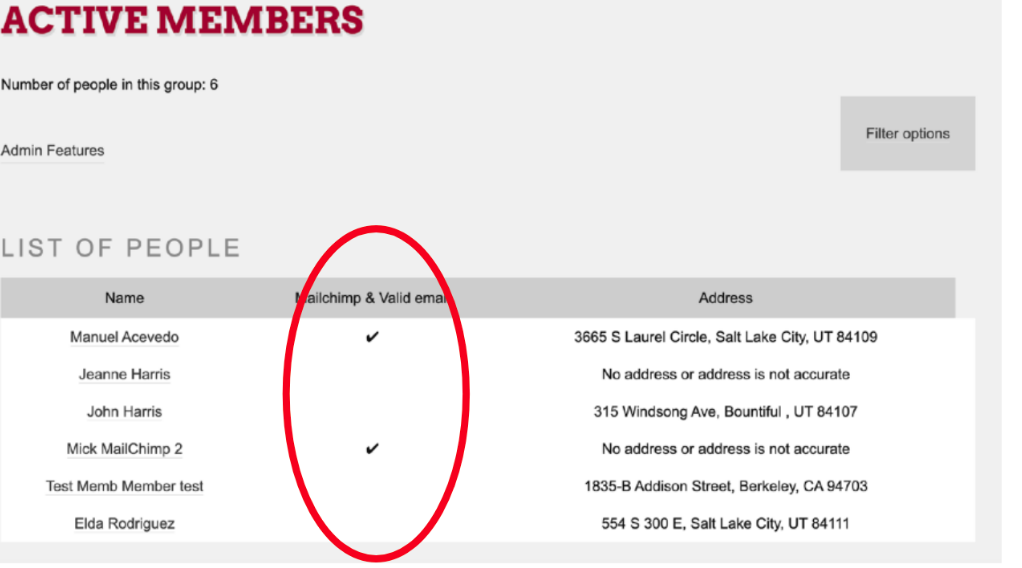 Only the people in the group with the Mailchimp checkbox checked & a Valid email can be synchronized with MailChimp.
If there the ✔ sign is missing, please click on the person's name to double-check their personal profile: